What's So Perfect about a Picture Window?
3 Ways to Use a Picture Window in Your Home
There's nothing complicated about the design of a picture window—it's a simple square or rectangular shape with just one pane of glass that typically does not open. So what's all the fuss about? Why is the simple picture window so unique and special?
The answer is that the simplicity behind the picture window is actually its secret weapon. Here at Renewal by Andersen, we've watched homes go through complete transformations with the addition of picture windows. They're an incredibly versatile window choice, meaning that whether you choose to have them stand on their own or combine them with additional windows, their simplicity makes for an easy way to bring the beauty of the outdoors inside of your home in whichever way you choose!
Here are 3 different ways you can use a picture window to enhance the aesthetics of your home:
1. Make Combinations
Compliment or upgrade your homes appearance by combining picture windows with other window styles. For example, you can increase ventilation and natural light by adding casement windows on both sides of a picture window. Or, adding a specialty window atop of your picture window can go a long way in dressing it up. The sky is the limit when mixing and matching window combinations—you're bound to find a style that boosts your home's appeal. Picture windows can be combined with your choice of casement, double-hung, gliding, specialty, or awning window styles.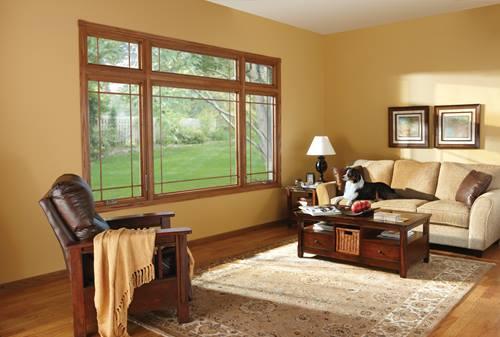 2. Let the Light In
Sunlight can benefit your home in so many ways. Large windows can help lower energy bills, boost curb appeal, enhance the colors within your home, and even improve your mood and sleep pattern! If a bright sunroom has been on your wish list or you've got a beautiful view that's too stunning to capture with a series of small windows, consider picture windows. Large picture windows are great for creating window walls by aligning many picture windows together. Our Fibrex® material can easily support the weight of the heavy glass commonly needed for large picture windows. Plus, all of our replacement windows are custom-made and sized to maximize glass space so you can let in as much light as possible or get every inch of that amazing view. When made with Fibrex® material, Renewal by Andersen® picture windows become the perfect choice for lasting beauty, durability, and energy efficiency1.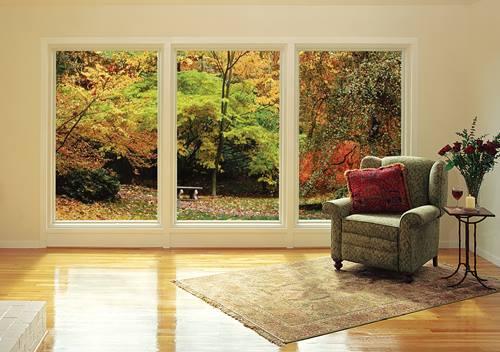 3. Reach for the Sky
Utilize the empty wall space that vaulted ceilings create with picture windows! There won't be a need to open any windows at this height, so the picture window's simplistic style is the perfect solution to illuminate this sort of space. If you're looking for a way to customize the appeal that this design adds to the interior and exterior of your home, try using different sizes of picture windows (like in the beautiful home pictured below). We custom build each picture window so that we can size it to fit your vision for your home.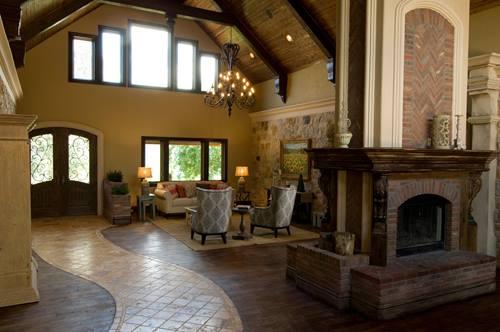 Whether it's time to replace your existing picture window or you've been inspired to try a new look in your home with the addition of picture windows, we encourage you to schedule a free consultation with one of our design consultants to talk about your home's exact needs. Picture windows come in three different styles, and like all of our windows, glass is available tempered, tinted, or in a wide variety of decorative patterns. In addition, interior and exterior colors are customizable, and grilles can be added to match your home's architecture. Check out what your home will look like using our app or schedule a free consultation with one of our design consultants today!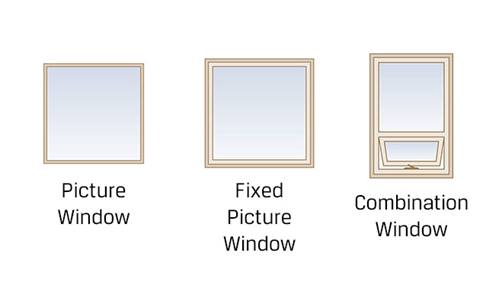 1 See limited warranty for details
What others have viewed...

Step 1:
Design Consultation
Our design consultants provide in-home or no-contact virtual meetings to listen to your design needs and provide a plan to improve your home.


Step 2:
Measure & Manufacture
Project Technicians ensure accuracy and answer any last minute questions before sending in the order for your fully customized windows.

Step 3:
Installation
Our Installers treat your home as if it were their own and clean up afterwards.

Step 4:
Customer Care
A robust limited warranty is backed by a commitment to making sure your windows function as expected.