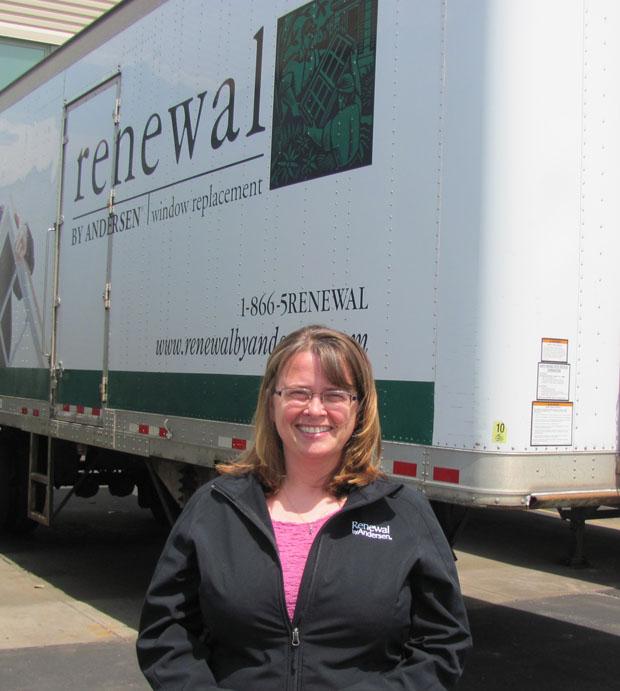 Today we thought we'd do something a little different in our blog. Let's go behind the scenes with one of the people who really "makes it happen" at Renewal by Andersen to get retailers their windows on time so they can ultimately satisfy our homeowners.
Sara has worked at Renewal for 17 years and is our supply chain coordinator. For those unfamiliar with the term supply chain, it is essentially the entire process of getting parts into the building and every step of where they go to get finished goods out the door. Sara is a key person at the end of this chain. She coordinates the shipping schedules for our 100+ retail locations around the country.
Always interested in geography, Sara says her job is like a geography puzzle that is different every week. It is her responsibility to put together an efficient route that has the fullest trucks, with not too many stops, which still arrives on the day the retailer expects it. This puzzle changes all the time based on window orders and our ever-expanding retail network of locations.
She also gets involved in getting rush orders to the field. Occasionally parts needed for installation are lost, damaged or mislabeled and necessitate new ones being rushed out the door. Perhaps this explains why, when we asked her what super power she wishes she had, she said, "all the powers that Superman has." She likes being behind the scenes, but takes a lot of pride in our on-time delivery percentage of over 96%.
When she's not at work, Sara and her family enjoy the outdoors - kayaking, 4-wheeling, and camping in the northern woods of Wisconsin. She also loves working on her family farm putting quality food on the table in a sustainable way.
Thank you, Sara, for all you do for Renewal by Andersen!
What others have viewed...

Step 1:
Design Consultation
Our design consultants provide in-home or no-contact virtual meetings to listen to your design needs and provide a plan to improve your home.


Step 2:
Measure & Manufacture
Project Technicians ensure accuracy and answer any last minute questions before sending in the order for your fully customized windows.

Step 3:
Installation
Our Installers treat your home as if it were their own and clean up afterwards.

Step 4:
Customer Care
A robust limited warranty is backed by a commitment to making sure your windows function as expected.