How to Arrange Furniture: The Complete Checklist
Ten easy furniture arrangement tips to try in your home
Whether you are moving into a brand new place or simply redecorating an existing space, the way that you arrange the furniture of each room can shape the feel and flow of your home. But coming up with an arrangement that fits your aesthetic ideals and satisfies the functionality you're looking for within a space can be challenging. If you're feeling unsure about how to tackle your rearrangement project, or just looking for inspiration, check out these ten easy furniture arrangement tips: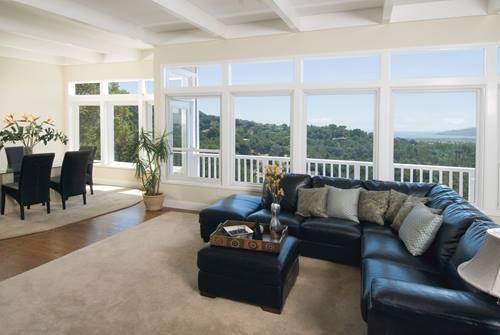 1. Measure First, Move Second
While you may fall head-over-heels in love with a couch that you see in a store, buying it without measuring your living room first could leave you with an awful case of buyer's remorse. To avoid being stuck arranging a room filled with over- or under-sized furniture, use a tape measure to get the dimensions of the room and the furniture pieces that you'd like to work with. Check the dimensions of the hallways, stairs, and door openings leading to the space and make sure that the entrance and egress of the room are large enough for the potential purchase. Measuring is also helpful if you are swapping out furniture between rooms. You'll know if the book shelf will fit where you need it to before emptying the books from it and hauling it over to the next room.
2. Devise a Plan
Whether you're buying new furniture or swapping between rooms, it's a good idea to plot out the dimensions of the furniture on a graph before moving anything. This will help you experiment with placement—without the work of heavy lifting. You'll also get a better sense of scale and better understand the size of the furniture relative to the room it will live in. You can plan out your room the old-fashioned way by using graph paper and a pencil or you can browse for online and mobile tools that can help you graph it out electronically.
3. Develop a Function
Sometimes, we get so caught up in how a room LOOKS, that how it functions ends up getting forgotten. Remember, the look of a room is just as important as the feel of a room. Chairs that look the part but are uncomfortable to use, or kitchens that have become so cluttered with appliances and décor that they are too full to move around in can create frustration and make you not want to use the space.
To arrange furniture in a way that is both aesthetically pleasing and functional, take the time to determine what you want out of a room in terms of comfort and convenience ahead of time. Then, make a check-list, and keep it with you while shopping and arranging as a reminder.
4. Pick How You'll Size
All furniture and decorative items have height, depth, and width aspects. Whether you choose like-sizes or pieces that vary will depends on the atmosphere you envision for the space. According to Jessica Jones, design consultant for Niche Interiors San Francisco, a collection of furniture pieces where each has a different set of characteristics can create visual interest and a high-energy environment. In contrast, grouping furnishings with similar volumes and scale can invoke a more relaxed feel.
5. Choose a Focal Point
Every room should have a focal point. In a living room it could be a fireplace, piece of art, or even a television. These points can help to invoke purpose within the room. Your choice of focal point(s) should go hand-in-hand with the way you intend to use the room. For example, if you'd like to create a fun and active environment in a large communal space, you may add a pool table. If you're looking to manifest a modern flavor in your off-kitchen dining nook, you may choose to incorporate high-top tables to eat at. There are plenty of options, just make sure that whichever you choose fits the design and atmosphere of all of the other elements within the space.
6. Experiment With Placement
The easiest way to arrange furniture is to push all of it up against the wall. This arrangement is a great way to create a larger sense of space in a small room; however, it shouldn't be your rule of thumb for every space. Better Homes and Gardens refers to this trend as "wallflower furniture," explaining that doing it can lead to a loss of intimacy.
When you sit down to plot out your furniture dimensions, experiment with the placement of your furniture. In a social space, try having a "floating" sofa in the middle of the room that is paired closely with other chairs for easy conversation.
7. Create Balance
Creating a positive relationship between items in a room is called balance. There are two forms of balance: symmetrical and asymmetrical. According to HGTV, Bilateral symmetry can be achieved by creating pairs of everything, whereas asymmetry is created by using objects of slightly different sizes next to each other. Both can create a pleasing aesthetic, however, symmetry is typically used in a calm and ordered atmosphere, while asymmetry usually adds motion and excitement in a space. Look to the colors and style of furniture you've chosen to determine which might compliment your design.
8. Break Up the Space
Experts at HGTV say most people tend to feel more relaxed and less formal in square furniture arrangements versus rectangular ones. If you have a large rectangular space, try dividing it up by splitting the space into two different areas of function. In a living space, one half could contain the sofa for the function of socializing, while the other half could be transformed into a dining area for the function of eating. This will help you to get the most out of the space you have available in your home.
9. Do a Walk-Through
There should be two to three feet of room for pass-through space in living rooms. More may be required for wheelchairs or if large groups of people will use the space at once. According to designer Abbey Koplovitz of AbbeyK Inc., coffee tables can be placed anywhere from 13 inches to 18 inches in front of a sofa, depending on the formality of the room. Forget to pay attention to this factor, and you may find you or your guests becoming frustrated and inconvenienced by road blocks in their walking path.
10. Test it out
While you may have great ideas for the aesthetics and functionality of a space when you're just jotting it down on paper…be prepared to change your plans after you've tried it out.
If you're rearranging a room that you hardly use in the basement, make an effort to spend more time in this room after you've finished it. This will help you to begin to incorporate the space into the home and to make sure that the furniture placement isn't causing any issues. If at first you don't succeed, try again! Slight adjustments of furniture placement can make a huge difference, so don't give up if it's not quite right the first time.
What others have viewed...

Step 1:
Design Consultation
Our design consultants provide in-home or no-contact virtual meetings to listen to your design needs and provide a plan to improve your home.


Step 2:
Measure & Manufacture
Project Technicians ensure accuracy and answer any last minute questions before sending in the order for your fully customized windows.

Step 3:
Installation
Our Installers treat your home as if it were their own and clean up afterwards.

Step 4:
Customer Care
A robust limited warranty is backed by a commitment to making sure your windows function as expected.