Employee Appreciation Day: Recognizing the employees of Andersen Corporation
In celebration of a day dedicated to hard-working employees across the country, we would like to personally thank all Andersen employees, past and present, for their inspiring commitment to the communities, their dedication and hard work (in the office, manufacturing plant, or in the field), and the value each brings to our company and our culture. In light of Employee Appreciation Day, we're recognizing a few employees who were deemed worthy of the spotlight by their fellow coworkers. From exceptional leadership skills and going above and beyond at work, to community involvement and overall morale boosters, we're proud and honored to have each of them on our team. Take a moment to read why their colleagues were inspired to nominate them for the spotlight:
Chrissy Martin, Renewal by Andersen of Boston
Chrissy Martin from Renewal by Andersen of Boston was nominated for the spotlight by her coworker, Brian, for always encouraging their team to get involved in the community and make a difference. Back in 2011, Martin organized a Thanksgiving Food Drive, and the tradition grows more successful each year. Last year, the team donated 825 pounds to the local food bank.
"My mother was always very charitable so I grew up wanting to give back to our community and help others who need it," says Martin. "We have a job, we have a great team, we have a company that cares about us and taught us all about being orange—why not share that with those less fortunate?"
In the past, Martin has helped to organize spring cleanups for the local Boys and Girls Club, volunteer efforts at the Community Harvest Project (which donates fruits and vegetables to local food pantries), and a "warm sock" drive for the local homeless shelter.
Martin is a Retail Service Representative in the operations department at Renewal by Andersen of Boston and has been with Renewal since 2009. Her dedication, warm heart, and positive outlook have not gone unnoticed. Thank you for your continued commitment and the value you bring to both the business and your community.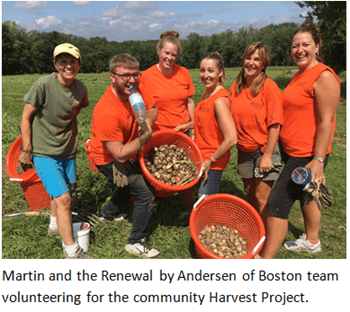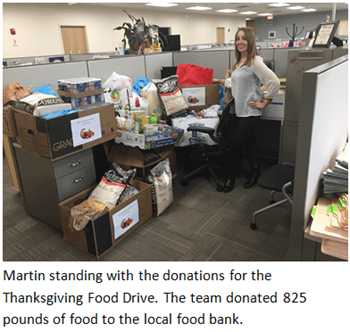 Randy Hagerty, Renewal by Andersen Corporate
Every office has that employee who is quick to help, has a contagious positive attitude, and greets anyone and everyone they come across with a smile. At the Renewal by Andersen corporate office in Cottage Grove, Minn., many would agree that one of those people is Randy Hagerty.
Hagerty became the Facilities Coordinator at Renewal by Andersen in early 2016, and has been the facilities management field for over 15 years. He was nominated by a few of his coworkers for not only his willingness to help out and his work ethic, but for the compassion he shows towards each person he comes in contact with.
Curious how one enters the facilities management field? For Hagerty, it started way back in middle school.
"People always ask; where did it all start. For me it started in middle school," Hagerty explains. "One day I was horsing around at the lunch room table with a friend. Next thing you know, I squeezed his milk cartoon and the milk shot all over him. Lo and behold the lunch room monitor lady who was also watching, grabbed me by my shirt and brought me down to the (oh no) wait....... the BOILER ROOM! She had me eat in there the entire week by myself!! I didn't even know what a boiler was back then. Little did I know she helped me choose career path into the wonderful world of facilities maintenance! I never knew if I should have gone back and thanked her…….. or not?"
When I spoke with Hagerty about his nomination, his response was certainly not surprising. "In all honesty, the compliments are great and I certainly appreciate them. However I feel the success is a contribution of everyone, not just one person but everyone here on the Andersen team!" he wrote. "Without one person, the pie just isn't a whole, and with one spoke missing on a wheel, the wheel just won't turn."
Thank you, Randy, for bringing your positive, can-do, and contagious attitude to work with you each day. The Renewal by Andersen team undoubtedly appreciates it!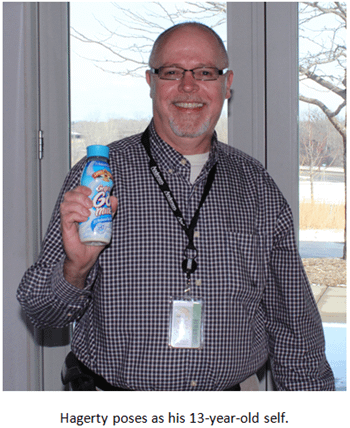 Sue Dahm, Andersen Corporation
Sue Dahm hails from the Garofalo Center, our research and development facility in Bayport, Minn. Dahm has not only been an exceptional administrative assistant to Bob Wolf, the Director of RDI Technology and Innovation, but a source of positivity and light to the Garofalo Center community for 30 years.
Dahm is the go-to for when one is in need of a listening ear or a morale boost, and, according to her colleagues, her presence alone will inspire you to want to become a better person. She goes above and beyond her daily duties to organize Garofalo's United Way events, welcomes new employees with an orientation, and also organizes delicious holiday cook outs and potlucks. Salsa day, anyone? If it's your birthday, you can expect a pan of delicious cinnamon rolls to start your morning off right! Along with her kind heart and attention to detail, Dahm also has an infectious laugh that can have anyone laughing and smiling alongside with her.
When asked what she thought about her nomination, Dahm was beyond humbled. "I just want to say that this department and everyone here are like family to me. They have been through so much with me and I truly love this department".
Some might say Dahm is the heart of Garofalo. So we want to say thank you for being a wonderful addition to our team for 30+ years.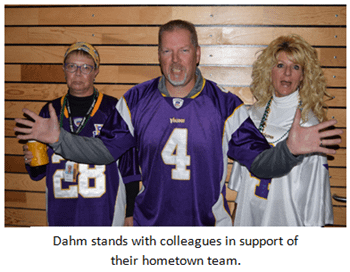 Matt Werner, Menomonie Consolidation Center
Meet Matt Werner. Werner is the Lean Manager and Department Operations Manager at the Andersen Consolidation Center in Menomonie, Wis. Werner was nominated by a coworker, a relatively new employee at Andersen, who explained how Werner welcomed him with open arms and took time to get to know him.
Not only is Werner a welcoming presence to those who work at the Menomonie Consolidation Center, but he also has extensive knowledge on the workings of the facility, and is a great individual to turn to with any questions.
Werner is a firm believer in upholding the workplace culture at Andersen, and using that culture to support his teammates and customers—all with a good sense of humor, of course.
When Werner is not at work, he supports the outside community by sitting on his local United Way board.
Matt Werner, thank you providing laughs, care, and fun to the Consolidation Center in Menomonie. We are truly thankful to have you on our team!
Anna Kolbeck, Andersen Corporation
Anna did not waste any time getting to know her coworkers and diving into a new body of work when she was first welcomed to our company as the HR Business Intelligence Analyst in the spring of 2016. Being immediately thrust into a very difficult project, a new employee might easily become flustered and intimidated. Not Kolbeck. According to the employee who nominated her, "[Kolbeck's] fresh ideas and philanthropic mindset are a blessing to Andersen".
Kolbeck has scheduled many work-related and non-work-related community giving events for her team. One event in particular is Operation Gratitude. Operation Gratitude is a volunteer-based organization that sends 150,000+ care packages to members of our Active Duty and Veteran communities each year as an expression of gratitude. Kolbeck singlehandedly coordinated thank-you cards from coworkers interested in writing notes to veterans, new recruits, or first responders and made sure that each card made its way to the organization so it could be sent to our military and veterans.
Thank you, Anna Kolbeck, for all you do. We appreciate your passion, your big heart, and your determination here at Andersen.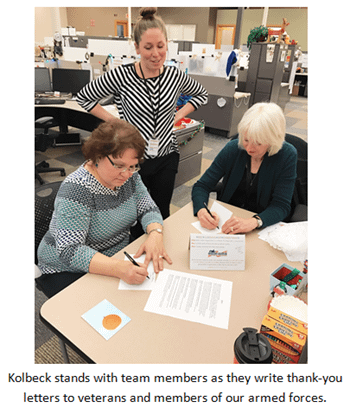 We want to extend a special thank you to Chrissy, Randy, Sue, Matt, Anna, and all of the hardworking employees who make a difference not only at work, but also in their local communities. Your dedication and commitment is truly appreciated.
What others have viewed...

Step 1:
Design Consultation
Our design consultants provide in-home or no-contact virtual meetings to listen to your design needs and provide a plan to improve your home.


Step 2:
Measure & Manufacture
Project Technicians ensure accuracy and answer any last minute questions before sending in the order for your fully customized windows.

Step 3:
Installation
Our Installers treat your home as if it were their own and clean up afterwards.

Step 4:
Customer Care
A robust limited warranty is backed by a commitment to making sure your windows function as expected.