Renewal by Andersen Recipient of Eureka! Innovation Award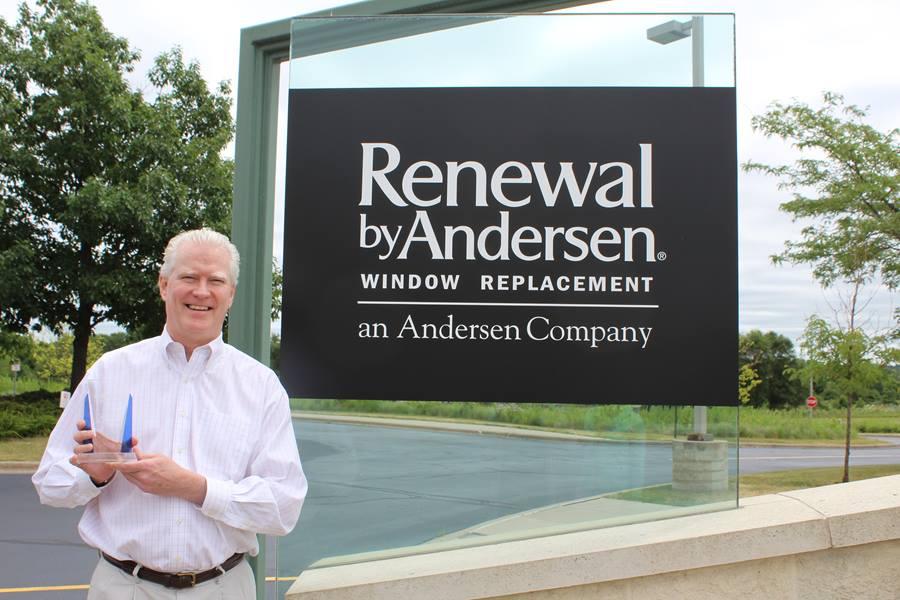 COTTAGE GROVE, MINN. (July 2017) — Renewal by Andersen LLC, the start-to-finish window replacement division of Andersen Corporation, was named a recipient of a 2017 Eureka! Innovation Award, honoring the most innovative companies, products and ideas in Minnesota. Presented by the Minneapolis/St. Paul Business Journal, the goal of the Eureka! Innovation Awards is to highlight and recognize creative, progressive companies that are transforming their industries by the way they do business. Renewal by Andersen received the award in the "Architecture, Engineering, Real Estate" category during a recognition ceremony on June 21.
The innovative Renewal by Andersen corporate headquarters, factory and office expansion reflects Andersen Corporation's commitment to the environment, its customers and its people. When the Cottage Grove facility opened in 1999, Renewal by Andersen ran one eight-hour shift. The division quickly grew to meet demand, and today the factory runs 24 hours, five days a week. That growing demand prompted the expansion of its facility, which was completed in 2016. By adding 113,000 square feet to the manufacturing floor and 11,000 feet of office space, the expansion allowed Renewal by Andersen to add more production lines and create nearly 200 additional jobs in Minnesota.
The facility was also designed with the environment in mind. The building features high-efficiency LED lighting throughout, an enhanced building-automation system with seasonally adjusted cooling as well as around 160 new high-efficiency picture windows, manufactured right at home by Renewal by Andersen.
Renewal by Andersen's commitment to giving back to the community is one of the company's main values – and an essential part of why it designed a worker- and visitor-friendly space. The facility is a place where employees are proud to work, and its neighbors are proud to have as part of the community.
"We are honored to be recognized by the Minneapolis/St. Paul Business Journal with the Eureka! Innovation Award for our new facility," said Paul Delahunt, president of Renewal by Andersen (pictured above). "This isn't just a place we come to work or conduct business, this is a community we're invested in, where many of our employees call home."
Since opening its first store in Minnesota in 1995, Renewal by Andersen has expanded to nearly 100 markets throughout the U.S. It has become one of the largest replacement window networks in the country, having installed more than 4 million windows.
For more information about Renewal by Andersen, visit www.renewalbyandersen.com.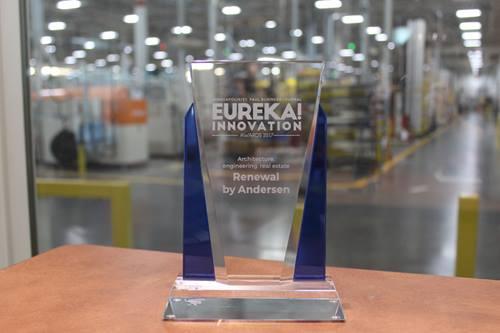 About Renewal by Andersen
Renewal by Andersen LLC is the start-to-finish window replacement division of Andersen Corporation. The company offers a replacement process that includes an in-home consultation, custom manufacturing, and installation through one of the largest nationwide networks of window replacement specialists. Renewal by Andersen: Recognized by J.D. Power for "Outstanding Customer Satisfaction with Windows and Patio Doors". For a complimentary in-home consultation, or to view more information about Renewal by Andersen visit www.renewalbyandersen.com.
What others have viewed...

Step 1:
Design Consultation
Our design consultants provide in-home or no-contact virtual meetings to listen to your design needs and provide a plan to improve your home.


Step 2:
Measure & Manufacture
Project Technicians ensure accuracy and answer any last minute questions before sending in the order for your fully customized windows.

Step 3:
Installation
Our Installers treat your home as if it were their own and clean up afterwards.

Step 4:
Customer Care
A robust limited warranty is backed by a commitment to making sure your windows function as expected.