Bring the fresh air in with Renewal by Andersen® casement windows. Casement windows are our most energy-efficient, ventilating window style. To enjoy a breeze, simply crank your casement windows outward and direct the fresh air in.

Replacement casement windows are a great choice for above cabinets or counters where opening requires a reach. Adding to their convenience, our casement windows are designed to allow for easy cleaning from inside your home. Our easy-to-latch lever securely locks the casement window at multiple points for a weather-tight seal.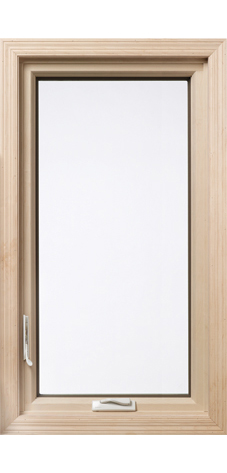 Colors

Match or complement the colors of your home with our window color options. Choose the same color for both the interior and exterior, or select any exterior color with a stainable wood, white or canvas interior. Our colors will not flake, rust, blister, peel, crack, pit or corrode, making troublesome maintenance a thing of the past. See the limited warranty for details.

*Screen limitations prevent exact color duplication. For an accurate representation of color options, please view actual color samples available from your Renewal by Andersen sales representative.

White (Interior/Exterior)

Canvas (Interior/Exterior)

Sandtone (Interior/Exterior)

Terratone (Interior/Exterior)

Maple (Interior Only)

Oak (Interior Only)

Pine (Interior Only)

Cocoa Bean (Exterior Only)

Dark Bronze (Exterior Only)

Forest Green (Exterior Only)

Red Rock (Exterior Only)

Black (Exterior Only)

Hardware

With multiple color options, you can match your home's existing color scheme or change the look by choosing a new color that complements your new windows. Choose from three standard color options (White, Canvas or Stone) or from eight exclusive finishes with our Estate™ collection.

*Screen limitations prevent exact color duplication. For an accurate representation of color options, please view actual color samples available from your Renewal by Andersen sales representative.

Antique Brass

Bright Brass

Brushed Chrome

Distressed Bronze

Distressed Nickel

Oil Rubbed Bronze

Polished Chrome

Satin Nickel

Stone

White

Canvas

Renewal by Andersen Glass Performance Options

Each glass option offers four unique benefits for heating, cooling, visible light transfer and ultra violet (UV) protection. The glass solution for you depends on the climate you live in, the architectural design of your home, and the orientation of your windows to the sun.

High-Performance™ Low-E4® glass

45% more energy-efficient in winter*
56% more efficient in summer*
Blocks 84% of UV rays that can damage your drapes, artwork and furniture

High-Performance™ Low-E4® SmartSun™ glass

SmartSun™ is our most energy efficient glass option. It has our highest efficiency rating in cool weather and is exceptional in hot climates where solar heat gain can lead to excessive air conditioning expense. SmartSun™ glass lets in almost as much natural daylight as clear glass.

45% more energy-efficient in winter*
70% more efficient in summer*
Blocks 95% of harmful UV rays

High-Performance™ Low-E4® Sun glass

Sun glass has our highest rating against solar heat gain coming through your window to help keep your home cooler in warm weather. A tint coating reduces the amount of visible light and sunshine streaming in from the outside.

Highest rating against solar heat gain
Keeps your home cooler in warm weather
Includes a tint coating to reduce visible light

Our High-Performance™ Low-E4® glass is also available in four pattern options: Obscure Pattern, Reed Pattern, Cascade Pattern and Fern Pattern. We also offer tempered glass options, heat-treated to be at least four times stronger than regular glass.

Colonial

Select the number of squares desired per sash.

Farmhouse

Pattern includes two vertical bars that meet a wider horizontal rail or bar at the center of the window.

Modified Prairie

Pattern includes two vertical bars and one horizontal bar per sash.

Prairie

Pattern includes two vertical and two horizontal bars per sash to form 4-inch corner squares.

Full Divided Light Grilles

Full divided light grilles provide a visual replication of true divided glass. The option consists of a permanently applied exterior Fibrex® material grille, an aluminum spacer between the glass, and a removable or permanently applied interior grille. Available in two widths.



Between-the-Glass

Aluminum grilles are permanently installed between the panes during manufacturing, providing the beauty of grilles with the quick cleaning of a smooth glass surface. Available in two widths and an array of colors.



Interior Wood Grilles

Made of hardwood, these grilles snap into clips on the interior of the sash and can be easily removed to make glass cleaning a breeze. Available in two widths.



Screens

Insect screens are included on every operable window from Renewal by Andersen. Each is lightweight and designed to be easily removed from the inside of your home for easy cleaning. All insect screens are constructed with an aluminum frame and your choice of glass fiber (our standard), aluminum or our innovative TruScene® insect screens. Half insect screens are available on double-hung windows.

TruScene® High Transparency Insect Screens
With over 50% more clarity than our standard insect screens*, it's virtually invisible. TruScene insect screens are made with a micro-fine stainless steel mesh that's one-third the diameter of standard screen wire* to let more fresh air and sunlight in, while keeping most of the smallest insects out.

Nearly invisible
Made of stainless steel
Protection against some of the smallest insects
Superior ventilation
Lets more light in
Patented technology



View product photos and videos
Inspiration Gallery
Date: April 17, 2017
Gender: Female
Age of home: Prior to 1950
We have been extremely pleased with every step we took to get our windows. When we decided to buy new windows, we called Renewal by Andersen. We were able to arrange a meeting right away and it was so convenient that the Design Consultant came to our home. JR brought multiple samples of products plus numerous videos. I had abundant questions and am very fussy about what products I use in my home both aesthetically and in terms of quality. J was extremely patient, very knowledgeable, professional, dedicated and understanding. I feel that he gave 100% and then some. In fact, he stayed for several hours answering my questions and explaining in depth about the quality, warranty, etc. He looked at all our windows and gave us an honest opinion on the state of our existing windows. J's true genius is designing. I talked to J about wanting windows which aesthetically matched the period and style of house we own. He drew up a window design which fit my wishes completely! The windows looked fabulous in the drawings that J made but look even better now that I have the installed windows! I have already received numerous compliments from neighbours who have passed our house while our windows were being installed. The next step after deciding on the windows that I wanted was for a technician to come to our house and take exact measurements for our project. NK was very professional, knowledgeable, skillful, patient, conscientious and dedicated. Not only did he very skillfully measure every window in our house but he talked about each window to confirm that we were on the same page. He not only was a measurer but he also used to install windows so he was able to advise us as what furniture we should move prior to the installation. We liked the fact that your company does not just make the windows but installs them also. The two installers who came to our house were ID and MM.. They were extremely knowledgeable, skillful and professional. They brought all our windows for the entire house the first day and asked us if we had a preference as to the order in which they install the windows. They very quickly and efficiently installed the windows in half the time than was originally booked for the job. They did a fantastic job and our windows look fabulous! Every person we met or spoke to on the phone from Renewal by Andersen was very professional, knowledgeable, skillful, dedicated, patient and understanding of the trust that we put in them to fulfill our project to our unique needs and wishes. We were extremely pleased with the people and products of your company and how seamlessly and quickly the whole process was. We appreciate the fact that the warranty is transferrable should we wish to sell our house in the future. We appreciate the durability of Fibrex. We also like the fact that Renewal by Andersen is a well-established company that has been in existence since 1903. Mere words can not express how absolutely stunning our windows look and how they make our whole house look better from both the outside and inside. We feel that that not only our windows greatly add to out house's curb appeal but also the monetary value of our home. We absolutely love our windows and have been extremely pleased with how seamlessly and quickly every step of the way was to have these gorgeous windows.
Date: April 14, 2017
Gender: Male
Age of home: 1990-1999
The guys (Dany Matt and Paul) on the job site were extremely professional and personable. They answered any questions that we had. They ensured that the windows were level before finishing the install and cleaned up after themselves at the end of each day. I would highly recommend this company to anyone who wants a fantastic product with fantastic installers.
Date: March 30, 2017
Gender: Male
Age of home: 1980-1989
We were completely satisfied with the complete process. The sales staff, follow up, and installation exceeded other services that we have had performed at our residents. We were also very impressed with the product as it was a vast improvement from the windows we had.We ended up with more window than filler. We would highly recommend Renewal by Anderson.
Date: January 21, 2017
Gender: Female
Age of home: Prior to 1950
We are so happy. The finished product is fantastic but there were some moments of miscommunication and back and forth during the process and no call the day before to confirm an arrival time like I expected. Everyone who comes to our home raves about these windows!