Sliding French Patio Doors
Andersen redefined the traditional French patio door category with the introduction of the revolutionary Frenchwood® sliding patio door. This sliding French patio door combines the traditional styling of French doors with the space- saving convenience of a sliding patio door—adding a beautiful touch to your home.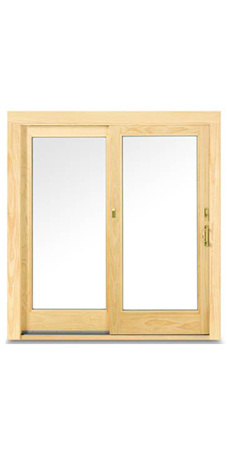 Features

French door design in a space-saving gliding door format
Frame is covered with a rigid vinyl sheath for an attractive appearance with minimal maintenance
Door easily slides open on Andersen's track rollers
Reach-out lock system provides increased security

Colors

Match or complement the colors of your home with our color options. Our colors will not flake, rust, blister, peel, crack, pit or corrode, making troublesome maintenance a thing of the past. See the limited warranty for details.

White (Interior/Exterior)

Canvas (Exterior)

Sandtone (Exterior)

Terratone (Exterior)

Maple (Interior)

Oak (Interior)

Pine (Interior)

Hardware Options

Albany

Anvers

Covington

Encino

Newbury

Tribeca

Whitmore

Yuma

Hardware Colors

Antique Brass

Bright Brass

Brushed Chrome

Distressed Bronze

Distressed Nickel

Oil Rubbed Bronze

Polished Chrome

Satin Nickel

Stone

White

Renewal by Andersen Glass Performance Options

Each glass option offers four unique benefits for heating, cooling, visible light transfer and ultra violet (UV) protection. The glass solution for you depends on the climate you live in, the architectural design of your home, and the orientation of your windows to the sun.

High-Performance™ Low-E4® glass

45% more energy-efficient in winter*
56% more efficient in summer*
Blocks 84% of UV rays that can damage your drapes, artwork and furniture

High-Performance™ Low-E4® SmartSun™ glass

SmartSun™ is our most energy efficient glass option. It has our highest efficiency rating in cool weather and is exceptional in hot climates where solar heat gain can lead to excessive air conditioning expense. SmartSun™ glass lets in almost as much natural daylight as clear glass.

45% more energy-efficient in winter*
70% more efficient in summer*
Blocks 95% of harmful UV rays

High-Performance™ Low-E4® Sun glass

Sun glass has our highest rating against solar heat gain coming through your window to help keep your home cooler in warm weather. A tint coating reduces the amount of visible light and sunshine streaming in from the outside.

Highest rating against solar heat gain
Keeps your home cooler in warm weather
Includes a tint coating to reduce visible light

Our High-Performance™ Low-E4® glass is also available in four pattern options: Obscure Pattern, Reed Pattern, Cascade Pattern and Fern Pattern. We also offer tempered glass options, heat-treated to be at least four times stronger than regular glass.

Gliding Patio Door Grille Options

Gliding patio doors are available with colonial, prairie, short fractional or tall fractional grille pattern options. Ask your patio door replacement consultant for more grille options.

Colonial

Prairie

Short Fractional

Tall Fractional

Gliding Insect Screen

Gliding insect screens are available for double panel, hinged patio doors and gliding patio doors.

Retractable Insect Screen

Retractable insect screens are available for all patio door styles. For Frenchwood outswing patio doors, they are mounted on the interior only.

View product photos and videos

Inspiration Gallery

Date: April 14, 2017

Gender: Male

Age of home: 1990-1999

The guys (Dany Matt and Paul) on the job site were extremely professional and personable. They answered any questions that we had. They ensured that the windows were level before finishing the install and cleaned up after themselves at the end of each day. I would highly recommend this company to anyone who wants a fantastic product with fantastic installers.

Date: January 03, 2017

Gender: Male

Age of home: 1960-1969

We were advised that our screen door needed to be replaced, along with our rear storm door. Installation was completed in the first week of December and we have received no contact from any Andersen rep, advising when the screen door and storm door will be installed. We have already paid for these products. We would appreciate contact and the installation in the near future. I think this would greatly change the rating in this survey. All Andersen Staff were great. It's not completed and we wonder whether we have been forgotten.

Date: January 03, 2017

Gender: Male

Age of home: 1980-1989

We had 2 sliding doors installed. The product is top-notch. The service is fantastic. The installers are absolute professionals. After researching the competition, Renewal by Andersen will be our choice for the next window upgrades!

Date: November 12, 2016

Gender: Female

Age of home: 1970-1979

From the initial contact, through to the final product installation, we were impressed with the professionalism and thorough information provided. The windows arrived exactly on time, the installers were efficient, friendly, tidy and the whole job was finished in record time.The windows look great and we are very happy with the entire process.